Today's the last day I get to be 38. For years I have told the kids I was 29. LH finally told me last year that I didn't look like other 20-somethings, and decided that I was 31. I never corrected her. Technically I was 31. At least. At least 31. 
This year, she was all set to agree I was 32, since I'd spent the last year "being 31″… until daddy tried to break the news that I was, in fact, 39. Thirty-nine. Her eyes nearly popped out of her head. I know, baby, I can't believe it either.
Thirty-eight was a hard year. It's full of should'ves, would'ves, could'ves, two moves and a whole lot of faith. Reese Witherspoon was born a day earlier than I was and she looks way better than I do. I think I've edited this post at least three at least four eighty-seven times.
Are you feeling as distracted by reading this as I felt reliving it? Hold on while I exhale.
Here's the long and the short of it. I don't like hearing that I'm 39 because in my eyes, I should have accomplished more by now. I should be in a career that I love. I should be spending my mornings drinking cocoa and typing out the next chapter in my latest manuscript. I should be encouraging others to live their dreams! I should have a beautiful house with a sprawling staircase and a swing set wrought iron steps and a trampoline in the backyard and be ten twenty pounds thinner.
Sometimes the one we compare ourselves to most isn't a friend, relative, colleague, or mentor. Sometimes the one we compare ourselves to and fall short of is the self we thought we should be by now back when we remembered how to dream.
But here's the thing. Lamenting our shoulda coulda wouldas does not change where we are. Thirty-eight wasn't a horrible year. In fact, it was my best year yet. In faith, I'd changed direction to head where I believed God was calling. I'd published my first devotional book, published several articles in magazines for adults and children, was invited to my first speaking engagement – hopefully all of these were the firsts of many. I'd opened our own family travel agency, taken my kids on some wonderful trips in the last year, and made precious girl time a priority. Henry David Thoreau would be proud that I was at least headed in the right direction.
Go confidently in the direction of your dreams! Live the life you've imagined. ~ Henry David Thoreau
I'd spent more time with the kids, and the hubs. More than that, I felt like I've finally stepped off the boat and out into the waters with my Lord. But deep down? I know that I'd really only dipped my toe in the water, one hand clutching the side of the boat the entire time. I'd headed in the right direction, but the distance I'd gone from the starboard edge wasn't as far as God wanted me to go.
Truths:

1) The more we mourn what we don't have, the less thankful we are for what we do have. Lord, thank you for all of the things you have blessed me with – both those things I can see, and those things I cannot.

2) The more we focus on what we should have done by now, the less we focus on the tasks that God has for us. Lord, help me readjust my focus.

3) You can't fully step into the water if you are still holding onto the side of the boat.
That last truth? Ouch. Last year really was a great year, but how much better would it have been if I'd truly have run out into the middle of the place where He's called me, rather than staying right up next to the safety of the boat?
When God says "Come," it's a single word that means "Don't think, just come, I've got you covered. Don't keep one hand on the boat. Come deeper. Come out here, where I am." We can't be where he is with one hand clutching the boat.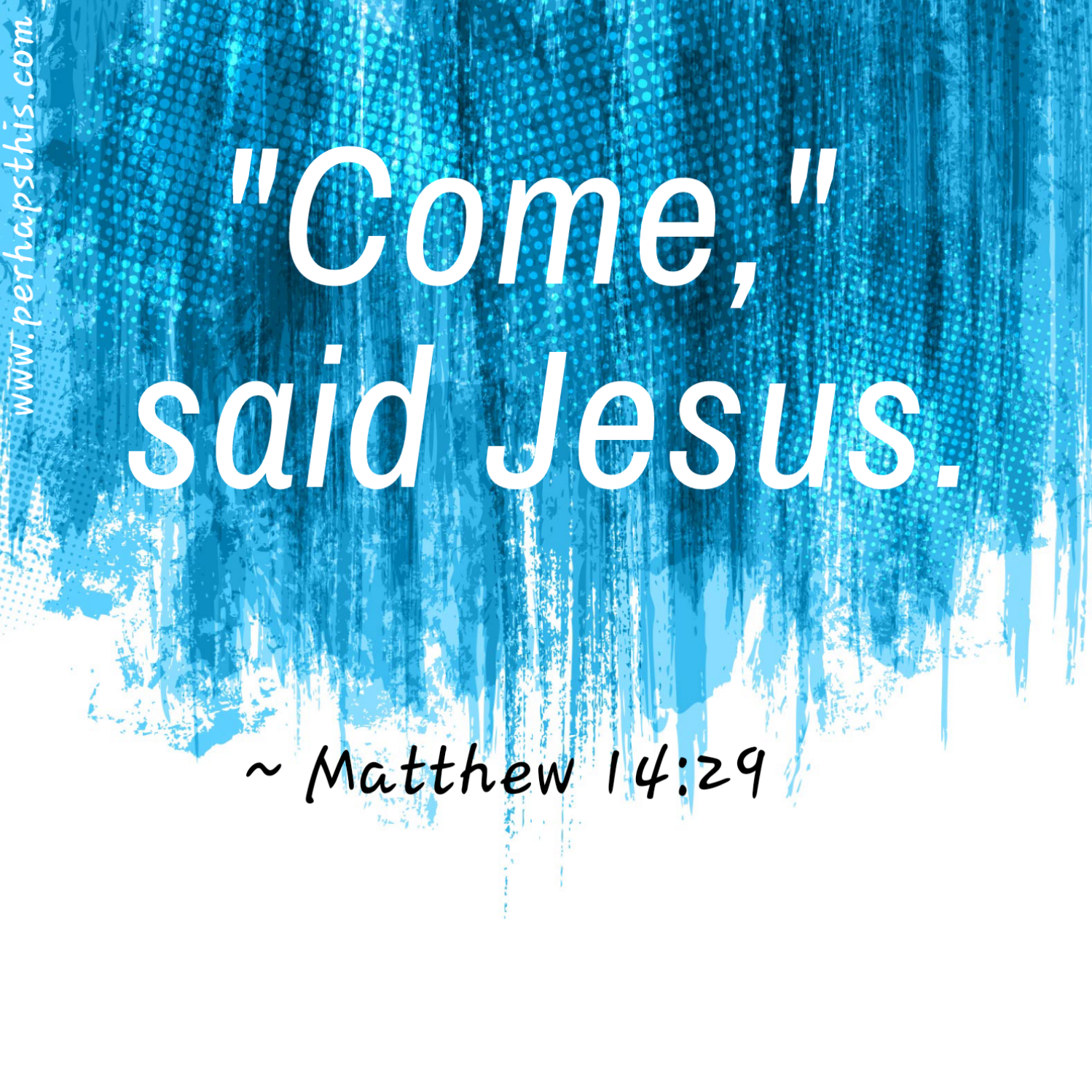 So for year 39? That's where I'm headed. Right out to the middle of where He is. No shouldas. No wouldas. No mourning those 20 lbs, or that trampoline, or even that morning cocoa over the next manuscript. Only thankfulness for the many, many things He allowed me to do last year, and excitement for all He has for me in the next. Yes, way out there in the middle; that's where I'm going. Lord, bring me the courage I need to let go of the boat and step deeper into the waters that lead to you. 
Don't worry, I'll keep you posted.
XOXO,
Karen