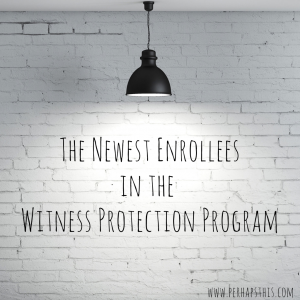 SEVEN times in seventeen years. That's how many times the hubs and I have moved.
We're not in the military. We don't have an aversion to staying put that I'm aware of.
I'm starting to wonder if the hubs is secretly enrolled in the witness protection program. What did he witness? Me vacuuming the house that one time in 1997? (I couldn't tell you how to work our vacuum. Perhaps if there were a mafia person in my living room that said, "Vacuum up these cheerios or say goodbye to Twitchy Bigglesworth," then I could probably at least figure out how to turn it on. Probably.)
Who moves that many times?
It was all for good reason.
We got our first apartment.
Then we moved in with his dad to save up for our first house.
We decided we couldn't afford a home in Detroit (we really couldn't) so we moved to the town hubs grew up in, four states away.
Then we moved to our first house house that we built ourselves in that same town, lovingly referred to as The Moat House. Enter: the Ginger Twins.
We moved to the city for better schools for the kids – they really were great schools.
We moved to a different apartment that enabled us to be able to EAT after paying the rent each month (let's just say the cost as stated when we moved in was incorrect and it was too late to move back), then moved out of that apartment (hello 2 am domestic disputes from the moved-in-after-we-did neighbors, wasp swarms that were never addressed by the property, and random weekly "we're sorry, the water lines are being turned off for maintenance. For 24-48 hours." Every week? Come on people!) and rented a house.
Most recently, we moved to the next state over for a job, because mine had ended and there was not a new offer in sight. Or we'd probably still be in that house in the town we loved so much.
For the record, we really aren't in the Witness Protection Program. And as far as you know, my name is Karen. (wink, nudge)
House number eight (because we aren't counting college. Or are we?) was a good four minutes from work, five if it's rainy. In the middle of town. Across from the city park. Right off the main road to go to church. The location is great, but the ants, the hole in the floor, the atmosphere at school, let's just say there are a MILLION reasons for us to look for house number nine.
The great thing about moving with our family is that you get to take the family with you!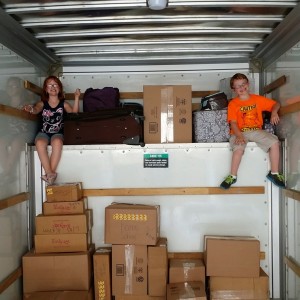 The Ginger Twins. No, I did NOT stage this photo.
(No brainer, right?) No, really. Yes, we have to make new friends, and there's a learning curve but each of our moves was what we thought was best at the time. The thing is, we have all these really funny memories from this time or that time.
Like the time that LH locked the keys to the Uhaul inside the Uhaul, and hubs had to break in.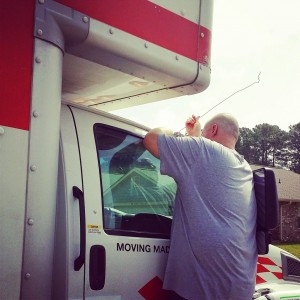 Thank you Lord that moving truck door locks are old-school!
And then there's move number nine, to our current house. Also known as, the time we got a 24-foot U-haul stuck in the mud and tried to pull it out with the 8-foot Camry to save the $250 towing fee that one tow truck company quoted us. (It didn't work, and 97 calls later we finally found a company to rescue us for $70.)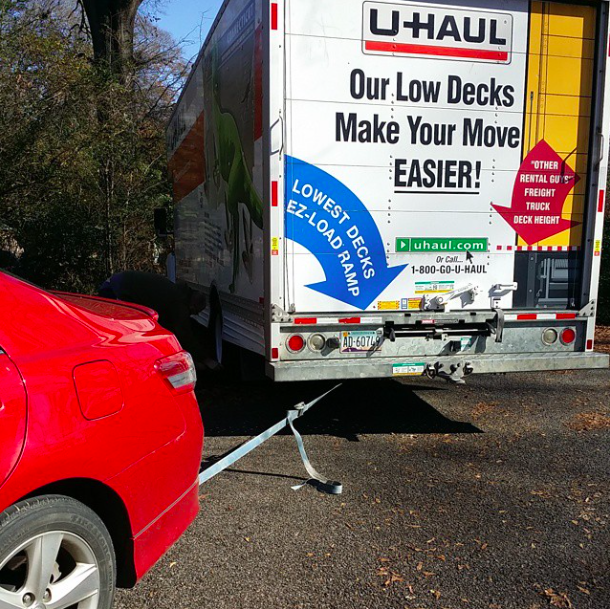 This was 100% not my fault, as I was not the one driving.
I cannot make this stuff up. And that's how you know the next chapter of Everyday Adventures is starting – when humor kicks in and you laugh so hard you are crying. Oh yes, and taking a picture so you can blog about it.
Don't worry, I'll keep you posted.
XOXO,
"Karen" (wink, nudge)
You might also like:
After the Tenth Child
God Loves Benjamin Moore Paint