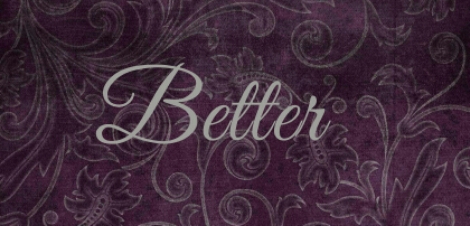 I never really had a "word of the year." You know. That "power word" that is supposed to be your focus word to drive all of your pretty-much-everything for the coming year. Most folks who choose power words tell me they're chosen sometime around New Year, but like resolutions, are often left on the side of the road by about February.
I have one friend who's really great at annual focus words. Bless her heart, she sticks with the word all.year.long. Who does that? Probably the same people who use their day planner all the way til December 31st, unlike some people (not mentioning any names) that may or may not have skipped the entire month of November. And December-to-date. I digress…
She tells me that she already has her word for 2016 – Purposeful, and I confess I am not a "wordie." That I've tried but I just can't get it right.
"It has to resonate in every fiber of your being," she says. "Do you have anything in particular that you want to do in 2016?"
Yes. I want to be… better.
I want to be a better mom. I want the kids to never have to question whether or not we love them as humans. Because sometimes, they do.
I want to be a better wife. The one my husband married, who was smokin' hot, and cooked supper 7 nights a week, and worried less about the boring every day details of life.
I want to be a better homemaker so that our house is welcoming for anyone, at anytime.
I want to be a better steward for the money God entrusts to us, more consistent in the amount of time I carve out for writing children's stories and devotionals, a better engineer for those who rely on my skills and knowledge in the workforce, and a better agency owner and planner for our guests and the agents who work in our travel agency.
A better witness.
A better reflection of His light.
When I think of 2016, that's the longing of my heart. That it would be – that I would be better. But for it to be a word for the entire year (and it is, I promise you, doing exactly what she said it would – permeating every fiber of my being) it means tomorrow is better than today. And Thursday is better than Wednesday. And March is better than February.
It's a continuous striving to be the woman He wants me to be. Better in His eyes, not just mine.
And it's already begun.
When the kids got home and the laundry they were tasked with folding yesterday was all over the game room floor, and after they'd been retasked with folding them, and after LM told LH that he was "doing it wrong" which resulted in LH dumping her entire pile back on the floor, and after I banned electronics and literally banned FUN, (who bans fun?) I decided we would be better. Even down to discipline. Even down to life lessons in the middle of Meatloaf Tuesday.
So I folded the laundry while our meatloaf cooked. And I made sure to cook broccoli (for LH) and mac n cheese (for LM). And they sat at the kitchen table, writing 100 times, "I will love _____ like Jesus loves _____." And they both said it was too hard, they couldn't love ____ because _____ didn't love them first.

But that is just exactly how perfect love works. Love without conditions. Love without rules. Yesterday's mom would have grounded, sent to be early, and made them fold every single stitch of clothing. But today? Today's mom is a better mom. Today's mom is going to take that moment, even in its descipline, to help us all be better. Today's mom is going to be better today, even if our 2016 word is still three weeks away.
Now, if only today's mom could get that folded laundry put away in the drawers, we could call 2016 done!
XOXO,
Karen