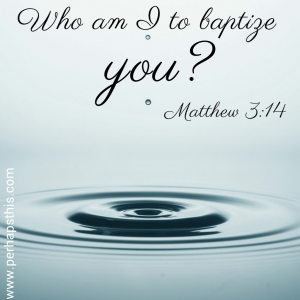 Thanks for joining me for our walk through the Bible this year! I'm glad you're here!
I thought I would do something a little different today. Not everyone is lucky enough to own a Bible, so I'm happy to link you to the exact passages you need to read each day as you follow along with me. Each link opens up to a new page, and then you can come back here to read the next link or the commentary without losing your place. Happy reading!
Genesis 5:1-7:24
Matthew 3:7-4:11
Psalm 3:1-8
Proverbs 1:10-19
Matthew 3:7-4:11
It's so easy to put God on a pedestal, isn't it? To think that He's so big He doesn't understand what we're going through here on earth. Today's passage reminds us that he was human just like we are. Matthew 3 says in vs 13-14,
13 Then Jesus came from Galilee to the Jordan to be baptized by John. 14 But John tried to deter him, saying, "I need to be baptized by you, and do you come to me?"
John the Baptist was baptizing sinners at the time, and when Jesus came to him, John tried to stop Him. Verse 11 tells us, "I baptize you with water for repentance." Who was John, that he was holy enough, good enough, righteous enough to be baptizing Jesus? No one is that worthy! And Jesus had never sinned – what on earth did he have that he should repent for ANYTHING? Why would Jesus even need to be baptized to begin with? But Jesus did not come to show how holy He was to others, He came as a picture of how we should live, an example of what we should do, and a sacrifice for our sins.
When John was baptizing others, he did so before Jesus truly began his ministry. Verse 11 goes on to say,
"But after me comes one who is more powerful than I, whose sandals I am not worthy to carry. He will baptize you with the Holy Spirit and fire."
John spoke (prophesied, which means he spoke about it before it happened) about a coming Messiah who would save the world, and whose power was much greater than John's – and here comes the very one John has been prophesying about! Jesus came to be baptized to be an example for how WE should follow in one of the first steps of faith as a believer. But there's another reason as well. Jesus' baptism was to encourage John and support his ministry.


"In addition, Jesus coming to John showed His approval of John's baptism, bearing witness to it, that it was from heaven and approved by God. This would be important in the future when others would begin to doubt John's authority, particularly after his arrest by Herod (Matthew 14:3-11).1"
Man, could you even imagine if Jesus walked into a book store and asked me to 
autograph
 one of my books?  Or asked to participate in your ministry? I'd like to think that we'd have a good old conversation but something tells me once I picked myself up off the floor it would be awhile before I could put together a coherent sentence to speak to Jesus. 
Chapter 4 goes on to tell us how Jesus was tempted by satan. Now I 
don't
 know about you, but doesn't satan whisper into your ear an awful lot? Tempting us to do this or that, to be unethical at work, eat more than our share, tempt our kids to toe the line of dishonesty, or tempt us to spend our money instead of tithing? Take heart, my sweet friend. Even Jesus was tempted! More importantly, Jesus was able to stand up to those temptations. And even more importantly, because he was tempted, he knows EXACTLY how it feels to be tempted, and will stand with you when satan comes a'knocking at your own door. 
What a wonderful encouragement this morning, knowing that no matter what you face with satan as your 
tempter
, Jesus has "been there, done that" and came out just fine. I know you will too!
How can I 
encourage
 you today?
1. See more about why Jesus was baptized here: http://www.gotquestions.org/Jesus-baptized.html#ixzz3OEJfzT12