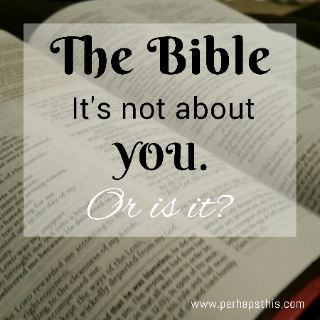 I read something this weekend from a blog that rebuked a female author for being a "prosperity" or eisegetical preacher. An eisegetical preacher (sometimes called a prosperity preacher) is one who teaches and believes that God is good, and life is all about grace, while infusing their own interpretation of God's Word to fit the needs of the audience, rather than preaching just the word and how it translated at the time. As the blogger noted, "The Bible is not all about us, our problems, and making all our hopes and dreams come true." 
Her statement really bothered me. And I know why. In a very long season of searching for God's desires for me, bringing my problems to Him daily, and seeking and searching God's heart for His path for me, the Bible has been such an integral part of my journey. I have searched God's word for answers, encouragement, and wisdom, and here's what I've found:
The Bible isn't all about our hopes and dreams coming true. It's not all about our problems.
However, it IS timeless. It is the living word, speaking to our hearts the way nothing else can.
It is about people with problems, just like ours.
People with dreams, just like ours.
People with God-shaped holes in their hearts, just like ours.
Because we will have problems (Joseph? David? Jesus? Moses? Samson?), we can use God's word as an example of how to work through those problems, how to learn patience, how to handle those problems, and how to encourage our friends through those problems as well.